Makeup Maniacs, have you seen this stuff at your local drug store? It's Sally Hansen's Miracle Gel Nail Polish.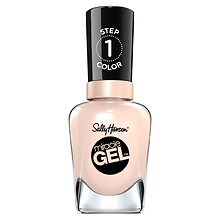 Depending on where you purchase this, you will spend anywhere from $7.99 to $9.99 per bottle. The color polish can also be bought together with the top coat, which is actually a necessary step in this 2 step nail polish system. The pair can be bought for anywhere between $13.99 & $15.99.
So, like I mentioned above, this is a 2 step gel polish system. You do not require a light, unlike traditional gel nail polishes. If you follow directions, this polish is supposed to last and give you "up to 14 days of color & shine".
Because I love the look and lasting power of gel polish, I wanted so much to try this and that's exactly what I did. I paid $15.99 for the top coat and #400 "Smartease" which is a very pretty light pink.
Following proper directions, I put the first coat of Smartease on my clean nails (no base coat needed per package). After letting it dry, I applied a 2nd coat. I let that dry and then swiped on the clear top coat.
I did this on a Friday night and by Saturday evening (24 hrs.), I had 2 chipped nails on my right hand. Whaaa?? I thought it would last, at the very least, one week, but ONE DAY! I was really upset that I paid so much for these products! And I quickly learned that this stuff removes just as easily as regular polish.
On my 5 star scale, with 5 being the best and a 1 being the worst, I give this 1 star! I will sum this up in one word: DISAPPOINTING