Are you a morning person? Well, makeup maniacs, I certainly am not, LOL! (Hey, at least I admit it) But the day cannot begin without a good skin care routine to invigorate the face and feel awake.
After doing all the "necessary" parts of my regular morning routine...ya know, bathroom, water, and meds...I start to wash my face. I'm currently using Olay Total Effects 7 in One Refreshing Citrus Scrub. It smells like oranges and has a light exfoliant to liven up those skin cells by promoting blood circulation. This takes care of any small, dry patches that I tend to have on my skin. It also preps the skin for flawless makeup application.
I follow up with Olay Total Effects 7 in One Anti-Aging Fragrance Free Daily Moisturizer. This lotion has sunscreen with an SPF of 15. Daily application of sunscreen is very important to help prevent signs of aging and sun damage. I use very little of this stuff on my face and neck so that I don't appear greasy.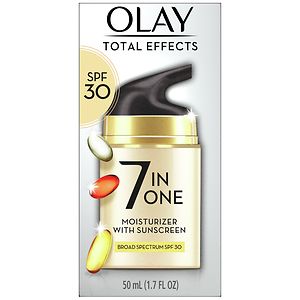 After I let the moisturizer soak into my skin, I prime my skin prior to makeup application. The Loreal Revitalift Miracle Blur primer is an excellent one, but I will sometimes use Benefit's Porefessional. Loreal's product is clear and has a silicone feel. Benefit's is flesh-colored, light, and creamy in texture.
From there I work on my makeup which is usually in this order: foundation, concealer, powder, brows, eyes, bronzer, blush, lips.
After I'm done, I spritz some Urban Decay's De-Slick Oil-Control Makeup Setting Spray and I'm out the door (well, after I eat breakfast and drink my NECESSARY cup o' coffee!)
Let me know what products you use in the morning, or perhaps you'd like me to test something out for you!